For our second post on the creative process, Enlight'ning turns the mike over to Harker alumna Antonia Wei Ling.  Antonia, whose last name was Ipser during her Harker years, is currently studying English and Art at Williams College.  Combining these two, this past summer Antonia wrote a short comic about Lori Ruff, a woman whose stolen identities were so convincing that she "took the secret of her real identity to the grave."
Twelve Pages about Someone Real
So: this summer I made a comic about a real-life woman who died in 2010. Twelve pages about Lori Ruff, a woman who wasn't who she said she was and took the secret of who she really was to the grave. You should look her up; it's an interesting story.
She really existed, but the scenes I write her into – at least the details in them, what she's thinking and feeling before she dies, what her family says about her after she's gone – are all pretty fictional. In some ways it's easier to try and write those scenes than to write a made-up character (which would maybe be a more creative enterprise, starting from scratch). But this is a different challenge: writing about Lori Ruff, or rather Jane Doe, means imagining what it must have felt like to lie to your partner about your name and your past. Or what it was like to care for an infant when you don't trust your husband's family. And ironically this also means imagining what it must feel like to try and take on a whole new identity.
Fiction is an empathetic exercise. Since "write what you know" often slumps into "write yourself, over and over again, without any disguising of that fact," creative writing can begin to seem like a narcissistic activity. For me, starting with the constraints of someone's real circumstances (and doing at least a little digging to find compelling details, before I start making them up) helped me get my bearings on the comic I wanted to make.
I don't think I'm really in a position to be giving advice, but if you find yourself writing like emotionally empty stuff or overwrought self-reflexive things, try looking for a story that interests you and seeing what you can do with it. Your history teachers might be happy with you if you take an interest in real pirates.
(please click on image to enlarge)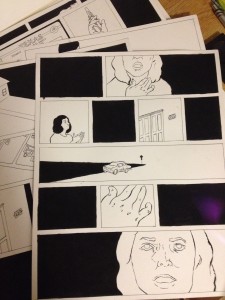 – Antonia Wei Ling (Antonia Ipser, Harker '12)